Midday Stock Roundup
Friday, July 17, 2020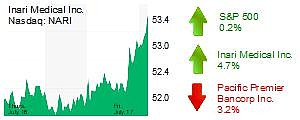 The S&P 500 rose 0.2% to 3,220.8 in midday trading Friday.
The Dow Jones Industrial Average fell 0.2% to 26,682.9, while the Nasdaq rose 0.1% to 10,485.3.
Crude oil was down 0.2% to $40.69.
Gold was up 0.6% to $1,810.80 an ounce.
The yield on a 10-year bond rose 2.1% to 0.6%.
HEALTHCARE
Irvine medical device maker Inari Medical Inc. (Nasdaq: NARI) rose 4.7% to $52.88 for a market cap of $2.5 billion.
Most OC device makers were up on Friday with Edwards Lifesciences (NYSE: EW) of Irvine, the largest local publicly-traded company, rising 2.5% to $73.66 for a market cap of $46.9 billion. Irvine-based Masimo Corp. (Nasdaq: MASI) increased 3% to $233.90 for a market cap of $12.7 billion. ICU Medical Inc. (Nasdaq: ICUI) ticked up 1.2% to $189.74 for a market cap of $4 billion.
FINANCE
Shares of Pacific Premier Bancorp Inc. (Nasdaq: PPBI) fell 3.2% to $20.22 for a market cap of $1.9 billion.
The company on Thursday said its Pacific Premier Bank received $2.9 million in grants from the Federal Home Loan Bank of San Francisco aimed at affordable housing projects.
HOMEBUILDERS
New Home Co. Inc. (NYSE: NWHM) jumped 14% to $4.31 and a 1.80 and a $78 million market cap. Volume in the Aliso Viejo-based developer-builder was 137,011, above the daily average of the past 30 days of 107,715. Shares have quadrupled since March when it was almost at $1.