Midday Stock Roundup
Wednesday, July 15, 2020
Share this article: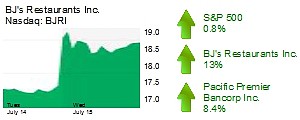 U.S. stocks rose after Moderna released a promising vaccine study for the coronavirus.
The S&P 500 climbed 0.8% to 3,222.57 in midday trading.
The Dow Jones Industrial Average rose 0.7% to 26,840.16 and the Nasdaq increased 0.4% to 7,405.31.
The yield on a 10-year Treasury bond increased 1.9% to 0.627%.
The price of gold was flat at $1,814 an ounce.
A barrel of oil increased 2.1% to $41.12.
RESTAURANTS
Huntington Beach-based BJ's Restaurants Inc. (Nasdaq: BJRI) increased 13% to $18.75 and a $417 million market cap. The S&P 600 Restaurants Index climbed 6.7% to 1,051.37. Other OC-based restaurants rising include Del Taco Restaurants Inc. (Nasdaq: TACO), based in Lake Forest, up 5.2% to $6.86 and a $254 million market cap; Costa Mesa-based El Pollo Loco Holdings Inc. (Nasdaq: LOCO) rising 5% to $15.19 and a $533 million market cap; and Newport Beach-based Chipotle Mexican Grill Inc. (NYSE: CMG),which climbed 1.3% to $1,116.58 and a $31 billion market cap.
BANKS
Irvine-based Pacific Premier Bancorp Inc. (Nasdaq: PPBI) increased 8.4% to $20.71 and a $1.95 billion market cap. The bank has a large portfolio of loans to restaurant franchises.