Midday Stock Roundup
Monday, July 13, 2020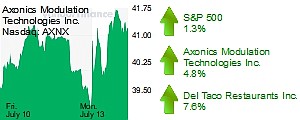 Major U.S. indexes saw gains during Monday midday trading amid optimism over two COVID-19 vaccine candidates produced by Pfizer (PFE) and BioNTech SE (BNTX).
The S&P 500 was up 1.3% to 3,225.84.
The Dow Jones Industrial Average rose 1.8% to 26,535.36, while the Nasdaq increased 1.5% to 10,771.83.
Crude oil was off 0.1% to $40.53.
Gold ticked 0.7% higher to $1,813.60.
The yield on a 10-year Treasury bond was up 1.3% to 0.64%.
HEALTHCARE
Irvine-based medical device company Axonics Modulation Technologies Inc. (Nasdaq: AXNX) increased 4.8% to $41.18 and a $1.6 billion market cap. The company said Monday it expects preliminary net revenue of $15.2 million for the second quarter 2020, compared to net revenue of $1.5 million in the prior year period. Nearly 96% of total revenue is attributed to sales to U.S. customers, the company noted. It will report complete second quarter 2020 financial results after market close on August 6.
RESTAURANTS
Orange County restaurant stocks saw gains across the board on Monday along with the S&P 600 restaurant index, which was up 1.6% to 1,043.66.
Gains were led by Lake Forest-based Del Taco Restaurants Inc. (Nasdaq: TACO), which jumped 7.6% to $6.66 and a $247 million market cap. Shares are up more than 10% in the past week and have surged 56% in the past three months.
Costa Mesa-based El Pollo Loco Holdings (Nasdaq: LOCO) rose 3.8% to $14.96 and a $524 million market cap and Newport Beach's Chipotle Mexican Grill (NYSE: CMG) increased 1.2% to $1,131.01 and a $31.6 billion market cap. The two companies announced new health-focused menu additions Monday, with El Pollo Loco rolling out a vegan chicken alternative and Chipotle testing new cauliflower rice in locations throughout Denver and Wisconsin.