Midday Stock Roundup
Monday, July 6, 2020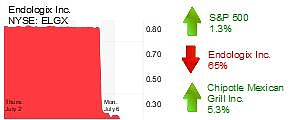 Major U.S. indexes rose sharply during midday trading after a new report showed a strong rebound in U.S. service sector activity in June.
The S&P 500 was up 1.3% to 3,171.82; the Dow Jones Industrial Average increased 1.3% to 26,149.49; and the Nasdaq jumped 1.9% to 10,402.84.
Crude oil was off 0.5% to $40.45.
Gold ticked 0.2% higher to $1,792.80.
The yield on a 10-year Treasury bond rose 3.7% to 0.69%.
HEALTHCARE
Endologix Inc. (Nasdaq: ELGX) dropped 65% to 26 cents and a $5 million market cap following a bankruptcy filing.
Other Orange County medical device companies saw gains, led by Irvine-based Axonics Modulation Technologies Inc. (Nasdaq: AXNX). The company, which makes devices to treat overactive bladders, rose 4.1% to $39.44 and a $1.5 billion market cap.
Edwards Lifesciences Corp. (NYSE: EW) and Glaukos Corp. (NYSE: GKOS) each rose nearly 1% apiece to $69.78 and $38.96, respectively.
RESTAURANTS
Newport Beach-based Chipotle Mexican Grill Inc. (NYSE: CMG) rose 5.3% to $1,112.72 and a $31 billion market cap. Shares for the fast casual restaurant chain are up 30% since the start of the year, and have jumped 61% in the past three months since the start of the COVID-19 pandemic.