Midday Stock Roundup
Thursday, January 30, 2020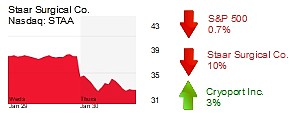 The S&P 500 declined 0.7% at midday trading to 3,250.
The Dow Jones Industrial Average fell 0.6% to 28,564.
Nasdaq was also down 0.7% to 9,209.
Crude oil descended 3% to $51.50 a barrel.
Gold rose 0.9% to 1,590 an ounce.
The yield on a 10-year bond fell 3.3% to 1.54%.
HEALTHCARE
Lake Forest-based Staar Surgical Co. (Nasdaq: STAA) fell 10% to $33.19 a share with a $1.4 billion market cap. Since the company on Jan. 13 reported preliminary fourth quarter sales grew 25% to $38.9 million, which topped its own forecast, shares reached a 52-week high of $42.73 on Jan. 17. Since then, shares have fallen 22%. Today's volume of 627,000 shares is nearly double the average daily volume. China, which is being affected by the Coronavirus, generated more than a third of 2018 revenue for Staar, a maker of an implantable eye lens.
Cryoport Inc. (Nasdaq: CYRX) was up 3% to $17.90 a share with a $662 million market cap. Shares had fallen 12% in the preceding five trading sessions. Cryoport transports and stores biological materials that range from frozen embryos to customized immunotherapy cancer treatments.