Midday Stock Roundup
Thursday, January 23, 2020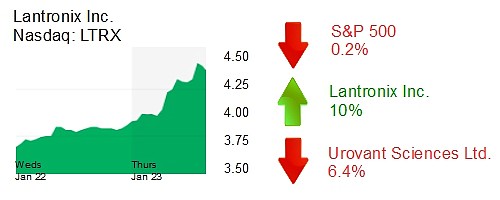 The S&P 500 was down 0.2% to 3,315.88 at midday trading.
The Dow Jones Industrial Average fell 0.3% to 29,093.80.
Nasdaq was also down by 0.1% to 9,377.24.
Crude oil fell 3.2% to $54.92 a barrel.
Gold rose 0.7% to $1,566 an ounce.
The yield on a 10-year bond fell 2.54% to 1.722%.
HEALTHCARE
Irvine-based Urovant Sciences Ltd. (Nasdaq: UROV) saw its stock fall 6.4% at midday trading to $13.30 a share with a $405 million market cap. Shares were trading about a fifth of its daily average of 68,000. The company is near its 52-week high despite its midday hiccup.
TECHNOLOGY
Lantronix Inc. (Nasdaq: LTRX) rose 10% to $4.22 a share with a $118 million market cap. The Irvine-based manufacturer of chips for the Internet of Things yesterday named Roger Holiday as vice president of worldwide sales. Shares were trading at more than double the average volume of 63,000. Today is the new 52-week high.