Midday Stock Roundup
Wednesday, January 22, 2020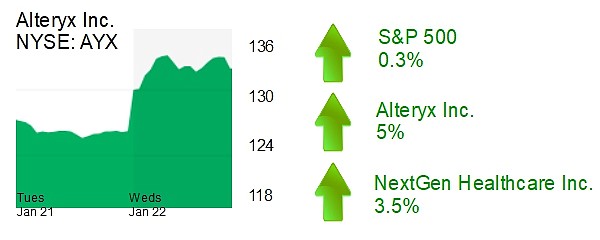 The S&P 500 was up 0.3% in midday trading to 3,329.06.
The Dow Jones Industrial Average ticked 0.2% higher to 29,252.21.
The Nasdaq rose 0.5% to 9,412.95.
The yield on a 10-year Treasury bond fell 0.1% to 1.77%.
The price of gold dipped 0.1% to $1,557.
A barrel of oil declined 2.4% to $57.
TECHNOLOGY
Irvine-based Alteryx Inc. (NYSE: AYX) was up 5% to $132.43 and an $8.6 billion market cap. The data analytics software maker is up 29% in the first three weeks of 2020; it's scheduled to report results Feb. 13.
HEALTHCARE
NextGen Healthcare Inc. (Nasdaq: NXGN), also in Irvine, rose 3.5% to $16.09 and a $1.1 billion market cap. The professional practice software provider reports earnings tomorrow.