Midday Stock Roundup
Wednesday, January 8, 2020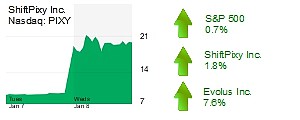 The S&P 500 rose 0.7% in midday trading to 3,258.51.
The Dow Jones Industrial Average was also 0.7% higher, to 28,787.86.
The Nasdaq climbed 0.8% to 9,142.78.
The yield on a 10-year Treasury bond jumped 2% to 1.86%.
The price of gold declined 1% to $1,558.
A barrel of oil plunged 5.5% to $59.28.
SERVICES
ShiftPixy Inc. (OTC: PIXY) shares rose 180% to $21.64 and a $20 million market cap. The app-based provider of shift workers to restaurants said "60% of its contracted book of business was assigned for $20 million" to fund the Irvine-based company's operations through mid-year, when it expects to be "cash-flow break-even."
HEALTHCARE
Newport Beach-based Evolus Inc. (Nasdaq: EOLS) rose 7.6% to $12.03 and a $427 million market cap. CEO David Moatazedi and other senior executives at the maker of an aesthetics medicine competitor to Botox plan to meet with Stifel's healthcare analyst Monday; the company presented at Stifel's Healthcare Conference in November.