Charitable Gifts for February Edition
NEARLY $150M REPORTED IN PRIOR YEAR'S LIST
Wednesday, January 8, 2020
Share this article: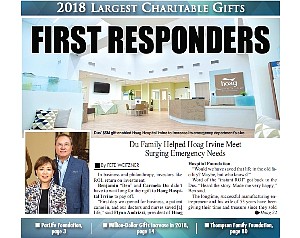 Did you, your company or foundation give—or did your organization receive—a large cash or noncash gift in 2019?
The Business Journal wants to hear from you.
We're in the beginning stages of collecting data for the largest cash and noncash gifts of 2019 donated by companies, foundations and people to recipients in Orange County.
The list is scheduled to publish in the Feb. 10 edition of the Business Journal, an issue that will highlight a wealth of philanthropic efforts taking place in OC.
Single cash gifts of $1 million or more and other notable noncash gifts will be considered for the list and related coverage.
Last year in our second annual listing, we published 43 entries in our ranking of 2018 gifts.
It was capped by the Bill and Judi Leonard and the Leonard Family Foundation's gift to Mission Hospital Mission Viejo for a new cancer center.
Other area business executives and their families, such as Benjamin and Carmela Du and the Thompson family, also played prominent parts in the list and related stories.
If you or your organization qualifies for the upcoming listing, let us know and don't miss out.
The Business Journal has an online form to fill out for consideration.
Go to bit.ly/36qoNnU to nominate your gift for the list.
The deadline has been extended to Jan. 29.
For more information, contact Research Director Meghan Kliewer at (949) 664-5051, or by email at kliewer@ocbj.com.