Midday Stock Roundup
Thursday, February 20, 2020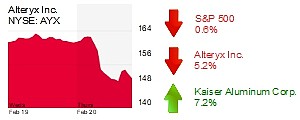 The S&P 500 fell 0.6% at midday trading to 3,366.
The Dow Jones Industrial Average was down 0.6% to 28,177.
Nasdaq took a 1% dive to 9,723.
Crude oil saw a 1.4% leap to $54 a barrel.
The price of gold increased 0.5% to 1,620 per ounce.
The yield on a 10-year bond fell 3% to 1.52%.
MANUFACTURING
Kaiser Aluminum Corporation (Nasdaq: KALU) surged 7.2% to $109.90 a share with a $1.9 billion market cap. Yesterday the Foothill Ranch-based company reported fourth-quarter adjusted profit of $1.79 a share, topping the $1.74 consensus estimate of analysts. It also increased its quarterly dividend 12% to 67 cents a share because of "our continued confidence in the long-term outlook for our business," Chief Executive Jack Hockema said in a statement. Kaiser Aluminum manufactures semi-fabricated aluminum products for planes, automobiles and other products.
TECHNOLOGY
Alteryx Inc. (NYSE: AYX) fell 5.2% to $145.30 a share with a $9.4 billion market cap. Shares of the Irvine-based provider of data are still up 68% since October.