Midday Stock Roundup
Thursday, February 13, 2020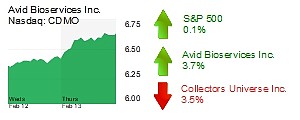 The S&P 500 rose 0.1% in midday to 3,381.
The Dow Jones Industrial Average fell by 0.1% to 29,511.
The Nasdaq rose 0.1% to 9,737.
Crude oil went up 0.5% to $51.43 a barrel.
The price of gold also rose 0.5% to $1,580 an ounce.
The yield on a 10-year bond fell 1% to 1.61%.
HEALTHCARE
Avid Bioservices Inc. (Nasdaq: CDMO) saw a 3.70% increase to $6.73 a share with a $379 million market cap. Shares of the Tustin-based biopharmaceutical contract manufacturer trading at about half of their daily average volume of 384,419.
SERVICES
Collectors Universe Inc. (Nasdaq: CLCT) fell 3.5% to $25.50 a share with a $236 million market cap. Earlier this month the company released Q2 2020 earnings. Trading volume was about half of its daily average of 70,000. The Santa Ana-based company offers third-party authentication and grading services for collectibles.

FINANCE
First American Financial Corp. (FAF) rose 4.3% to $65.09 and a $7.5 billion market cap. The Santa Ana-based provider of title insurance reported fourth-quarter adjusted profit of $1.80, topping the average analyst estimate of $1.48.