Midday Stock Roundup
Monday, February 10, 2020
Share this article: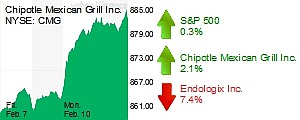 The S&P 500 increased 0.3% in midday trading to 3,337.65.
The Dow Jones Industrial Average saw a 0.2% increase to 27,022.96.
The Nasdaq climbed 0.7% to 9,582.82.
Crude oil dropped 1.6% to $49.54 a barrel.
Gold was up 0.4% to $1,579 an ounce.
The yield on a 10-year bond decreased 1.7% to 1.55%.
RESTAURANTS
Chipotle Mexican Grill Inc. (NYSE: CMG) in Newport Beach rose 2.1% to $882.50 and a $24.5 billion market cap. Pershing Square, a hedge fund run by billionaire investor Bill Ackman, said Monday it sold 215,378 shares of the fast-casual restaurant chain. Pershing Square now owns 1.5 million shares, which is about 5.4% of the company. Chipotle was Pershing's best-performing holding in 2019.
HEALTHCARE
Endologix, Inc. (Nasdaq: ELGX) fell 7.4% to 88 cents and a $16 million market cap. After the Irvine-based medical device maker on Feb. 6 announced preliminary fourth quarter sales of $35.8 million, the shares shot as high as $1.19 in the following trading session. Volume of about 600,000 shares was more than twice the daily average of the past three months.