Midday Stock Roundup
Tuesday, February 4, 2020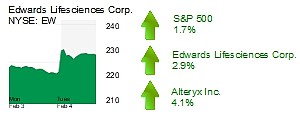 Major stock indexes surged higher in the second day of a rally as China's President Xi Jinping signaled a more proactive response to the country's coronavirus epidemic.
The S&P 500 was up 1.7% to 3,304.07 during midday trading; the Dow Jones Industrial Average 1.6% to 28,844.35; and the Nasdaq 1.9% to 9,448.94.
The yield on a 10-year Treasury bond jumped 5.5% to 1.60%
The price of gold decreased 1.7% to $1,555.
The price for a barrel of oil rose 0.2% to $50.22.
HEALTHCARE
Heart valve maker Edwards Lifesciences Corp. (NYSE: EW) of Irvine rose 2.9% to $226.27 a share for a market cap of $47.1 billion. InvestorsObserver.com said Monday it rated Edwards shares "near the top of the Medical Devices industry."
TECHNOLOGY
Data analytics software maker Alteryx Inc. (NYSE: AYX), also in Irvine, rose 4.1% to $145.33 a share for a market cap of $9.5 billion. Analysts on average rate its shares a "strong buy."