Midday Stock Roundup
Thursday, December 24, 2020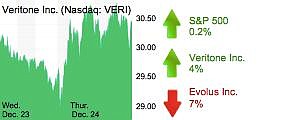 The S&P 500 was up 0.2% to 3,697.83.
The Dow Jones climbed 0.1% to 30,161.50 while the Nasdaq rose 0.1% to 12,787.85.
Crude oil dropped 0.02% to $48.11.
Gold increased 0.3% to $1,883.30.
The yield on a 10-year Treasury decreased 2% to 0.935%.
TECHNOLOGY
Veritone Inc. (Nasdaq: VERI) climbed 4% to $30.50 and a $964 million market cap. Shares of the Costa Mesa-based artificial intelligence company have almost tripled in the past two months.
HEALTHCARE
Newport Beach-based Evolus Inc. (Nasdaq: EOLS) fell 7.4% to $3.51 a share at midday trading with a $119 million market cap. Evolus announced last week its flagship Jeuveau aesthetic product received a more favorable ruling from the U.S. International Trade Commission.
The ITC reversed a lower judge's ruling that Evolus violated a trade secret involving rival South Korean companies and Allergan, now a unit of AbbVie. The ITC also reduced the judge's recommendation for a 10-year ban to 21 months.