Midday Stock Roundup
Wednesday, December 23, 2020
Share this article: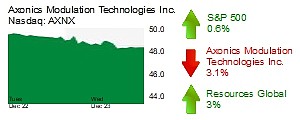 The S&P 500 was up 0.6% to 3,708.96 in midday trading.
The Dow Jones Industrial Average rose 0.9% to 30,271.95.
The Nasdaq increased 0.1% to 12,822.85.
The yield on a 10-year Treasury bond increased 3.2% to 0.876%.
Oil climbed 2.7% to $48.29 a barrel.
The price of gold ticked up 0.4% to $1,878 an ounce.
HEALTHCARE
Irvine-based Axonics Modulation Technologies Inc. (Nasdaq: AXNX) fell 3.1% to $47.45 and a $1.9 billion market cap. Shares are still up more than two-fold since March for the medical device provider of urology devices.
SERVICES
Resources Global Professionals (Nasdaq: RGP) climbed 3% to $12.63 and a $409 million market cap. The Irvine-base finance, human resources and IT services firm today said it will announce fiscal second quarter results after the market closes Jan. 6.