Midday Stock Roundup
Monday, August 31, 2020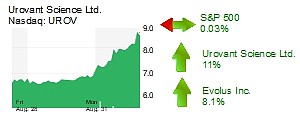 The S&P 500 was flat at 3,508.89 in midday trading.
The Dow Jones Industrial Average decreased 0.7% to 28,459.06.
The Nasdaq rose 1% to 11,808.978 led by gains in the tech sector.
The yield on a 10-year Treasury bond slumped 4.7% to 0.695%.
Oil slipped 0.3% to $42.84 a barrel.
The price of gold increased 0.3% to $1,980 an ounce.
HEALTHCARE
Orange County healthcare shares soared in Monday midday trading, led by Urovant Science Ltd. (Nasdaq: UROV) in Irvine which saw shares surge 11% to $8.93 and a $278 million market cap. Shares for the company, a developer of medications for urologic conditions, are still off 43% from the start of the year.
Newport Beach-based Evolus Inc. (Nasdaq: EOLS) jumped 8.1% to $3.87 and a $131 million market cap. Shares for the Botox competitor are currently trading at about one third of their daily average volume.
Lake Forest-based medical device maker Staar Surgical Company (Nasdaq: STAA) increased 4.6% to $47.77 and a $2.2 billion market cap; Masimo Corp. (Nasdaq: MASI) in Irvine rose 2.2% to $224.51 a share with a $12.4 billion market cap; San Clemente-based Glaukos Corp. (NYSE: GKOS) was up 1.7% to $48.01 and a $2.1 billion market cap; and ICU Medical Inc. (Nasdaq: ICUI) in San Clemente climbed 1.5% higher to $199.26 and a $4 billion market cap.
Orange County's largest public company by market cap, Edwards Lifesciences Corp. (NYSE: EW), was also trading up in midday trading. Shares for the Irvine heart valve maker increased 1.5% to $86.56 and a $53.2 billion market cap.