Midday Stock Roundup
Thursday, August 13, 2020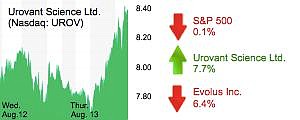 Indexes were mixed today as global coronavirus cases topped 20 million and the U.S. suffered its worst one-day death count, recording nearly 1,500 deaths.
The S&P 500 fell 0.1% to 3,376.96 in midday trading.
The Dow Jones Industrial Average was down 0.3% to 27,895.26, while the Nasdaq rose 0.4% to 11,055.31.
Crude oil declined 1.2% to $42.17.
Gold rose 1% to $1,969.
The yield on a 10-year Treasury rose 6.1% to 0.71%.
HEALTHCARE
Urovant Science Ltd. (Nasdaq: UROV) in Irvine saw a 7.7% increase to $8.26 a share with a $258 million market cap. Shares ticked up in anticipation of its first-quarter earnings, which will be announced after the market closes today.
Newport Beach-based Evolus Inc. (Nasdaq: EOLS) fell 6.4% to $3.63 a share with a $123 million market cap. The company on Aug. 10 reported second-quarter results, saying that its business was recovering from the shutdown forced by the coronavirus. Its shares are down nearly 70% since the beginning of the year.
RESTAURANTS
OC-based restaurants ticked up. Lake Forest-based Del Taco Restaurants Inc. (Nasdaq: TACO) shares jumped 9.9% to $9.90 apiece with a market cap of $336 million, while Newport Beach-based Chipotle Mexican Grill Inc. (NYSE: CMG) increased 2.6% to $1,191.00 and a $33.3 billion market cap.