Tony Hawk Gets Chipotle Burrito on the Menu
Monday, August 10, 2020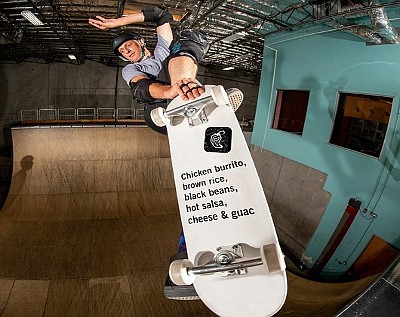 Skateboarder Tony Hawk linked with Newport Beach-based Chipotle Mexican Grill Inc. (NYSE: CMG) on a limited-time burrito promotion launched Monday.

It's a boon for Chipotle that also ties in a promotion with Hawk's Pro Skater 1 and 2 via Activision Publishing Inc. for the upcoming PlayStation 4 and Xbox One gaming consuls, granting access to the video game's demos for the first 2,000 people ordering the Tony Hawk Burrito.
The menu item will be available through Aug. 14, the same day Hawk and skateboarder Jagger Eaton and actor Finn Wolfhard are set to participate in a two-hour Chipotle Twitch livestream during which as many as 5,000 burritos will be given out.
Hawk holds a Chipotle celebrity card membership, which gives him access to free meals and catering. The card is given to what Chipotle said are "famous friends of the brand." The pro skater earlier this year also signed a deal with Costa Mesa-based Vans Inc. to be the footwear company's global brand ambassador.
Chipotle's Twitch account, which went live this year, has some 27,000 followers. The chain's made good use of it for marketing, particularly during the quarantine, with esports tournaments and music performances.
The chain, with a market cap of $32 billion, was trading down 3.7% in midday trading Monday to $1,137.25.