Midday Stock Roundup
Thursday, August 6, 2020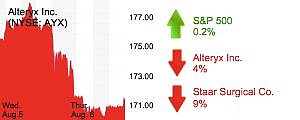 Indexes were mixed at midday trading after the U.S. Department of Labor's report showed fewer people applied for unemployment insurance in the last week.
The S&P 500 was up 0.2% in midday trading at 3,331.70.
The Dow Jones Industrial Average 5.9 increased 0.4% to 26,233.62.
The Nasdaq fell 0.4% to 11,038.01.
The yield on the 10-year Treasury bond declined 1.5% to 0.53%.
The price of gold rose 1% to $2,071.
The price of oil dipped 0.4% to $42.02 a barrel.
TECHNOLOGY
Alteryx Inc. (NYSE: AYX) moved down 4.3% to $170.97 a share with an $11.3 billion market cap. Irvine-based Alteryx, a provider of data analytics software, will report Q2 earnings today.
HEALTHCARE
Lake Forest-based Staar Surgical Co. (Nasdaq: STAA) fell 9.4% to a share price of $55.98 and a $2.5 billion market cap. Yesterday, the implantable lens maker reported net sales of $35.2 million in the quarter ended July 3, which was below the analyst consensus estimate of $37.8 million, and down 11% from the same period a year ago.
Masimo Corp. in Irvine dipped 3.3% to $217.66 a share with a nearly $12 billion market cap. Volume at the medical device maker (Nasdaq: MASI) was about a third of the normal daily average of 651,984 shares.

HEALTH REAL ESTATE
Ensign Group (Nasdaq: ENSG) jumped 12% to $54.40 and a $2.9 billion market cap. The provider of nursing homes reported second-quarter revenue and adjusted profit that topped analysts' consensus estimates. The San Juan Capistrano-based company also boosted its annual profit forecast to $3 to $3.10 from a prior estimate of $2.50 to $2.58.