Alteryx Shares Drop on Future Warning
Thursday, August 6, 2020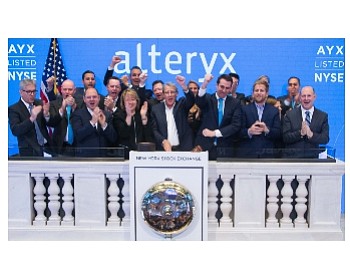 Shares in Irvine-based data analytics software maker fell as much as 20% in after-hours trading after the company warned about the challenges ahead for the rest of the year due to the coronavirus pandemic as it released second-quarter earnings.
The stock was trading at $134.31 at 5:59 p.m. in New York. The shares have about doubled since April and as of today's close, sported an $11.1 billion market cap.

The company said "significant headwinds will generally continue in the third and fourth quarters of 2020 and there will be uncertainty around new business and renewal timing or billings terms."
The company said third-quarter revenue is expected to be in the range of $111 million to $115 million, an increase of 7% to 11% year-over-year, while full-year revenue could increase 10% to 11% to $460 million to $465 million. That is far below the annual growth of around 50% that the company has been enjoying. The average consensus of analysts was for third quarter revenue of $119.3 million and 2020 revenue of $505.1 million.
Alteryx said the guidance could be modified higher or lower.
Alteryx said revenue for the second quarter of 2020 was $96.2 million, an increase of 17% compared to the second quarter of 2019 and above analysts' average estimate of $94.1 million. Net loss for the second quarter widened to $35.3 million from $3.2 million in the same period a year ago.
"While we experienced a slowdown in the second quarter driven by the global impact of COVID-19, we believe that the global opportunity for analytics and automation solutions remains significant, and we believe Alteryx remains well positioned as a leader in the space," chief executive Dean Stoecker said in a statement.