Midday Stock Roundup
Wednesday, August 5, 2020
Share this article: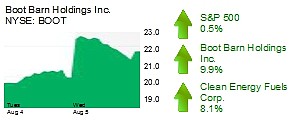 The S&P 500 was up 0.5% to 3,324.02 in midday trading. The Dow Jones Industrial Average jumped 1.1% to 27,129.03 while the Nasdaq increased 0.4% to 10,983.81.
Crude oil rose 1.9% to $41.22 a barrel while gold also climbed 1.2% to $2,044 an ounce.
The yield on a 10-year Treasury bond was up 6.4% to 0.55%.
RETAIL
Irvine Western-inspired retailer Boot Barn Holdings Inc. (NYSE: BOOT) jumped 9.9% to $22.34 and a $644 million market cap. The company yesterday reported net sales of $147.8 million for the quarter ended June 27, topping the consensus estimate of $137.5 million. Boot Barn recorded a loss of about $500,000, which came in better than analyst consensus estimate of a $4.3 million loss for the quarter.
SERVICES
Newport Beach-based Clean Energy Fuels Corp. (Nasdaq: CLNE) shares rose 8.1% to $2.73 and a $548 million market cap. The Motley Fool website today recommended the company as a buy, noting it has paid off its debt and its "financial position looks solid."