Midday Stock Roundup
Thursday, April 30, 2020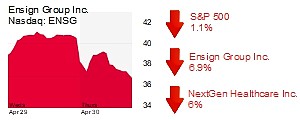 The S&P 500 was down 1.1% to 2,906.72 at midday trading.
The Dow Jones Industrial Average fell 1.3% to 24,313.41.
Nasdaq tumbled 0.6% to 8,857.60.
Crude oil resurrected 16% to $17.51 a barrel.
The price of gold fell 1.1% to 1,693.90
The yield on a 10-year bond fell 6.06% to 0.59%.
HEALTHCARE
Urovant Sciences Ltd. (Nasdaq: UROV) lost 6.9% to $8.93 at midday trading with a $272 million market cap. Shares of the Irvine-based company that manufactures pharmaceuticals for overactive bladder disorder were trading at half the average volume.
Skilled nursing provider The Ensign Group Inc. (Nasdaq: ENSG) based out of San Juan Capistrano choked 7.4% to $37.75 a share with a $2 billion market cap. While the company has no recent press releases, skilled nursing providers have been featured in the news and mainstream media alongside increased deaths of elderly at assisted living facilitates from the coronavirus.
Healthcare provider of ambulatory patient care NextGen Healthcare Inc. (Nasdaq: NXGN) took a 6% hit bringing shares to $10.70 with a $703 million market cap. Although the Irvine-based company focuses on connecting patients and providers, it purchased several companies in the past several months to bolster its patient-reach abilities in rural areas. The company announced An update regarding the coronavirus impact on May 4.
MANUFACTURING
Kaiser Aluminum Corp. (Nasdaq: KALU) lost 6.4% at midday to $72.99 a share with a $1.5 billion market cap. The company yesterday priced an additional $50 million of 6.5% senior notes due 2025. The Foothill Ranch-based company intends to use the net proceeds from the offering of the notes for general corporate purposes