Taco Bell a Bright Spot in Yum's Q1
Wednesday, April 29, 2020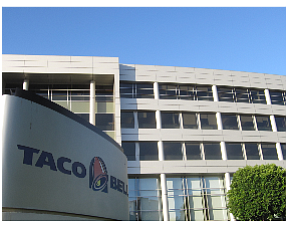 Irvine-based Taco Bell Corp. notched sales growth, helping parent Yum Brands Inc. (NYSE: YUM) stave off even larger losses in its recently ended first quarter.
Taco Bell was the Louisville, Ky.-based company's only division that saw such increases in the March quarter, up 4%, and the only segment to see comparable sales growth, of 1%.
Sister divisions KFC and Pizza Hut reported sales declines of 2% and 9%, respectively. Same-store sales for KFC and Pizza Hut were off 8% and 11%.
Yum completed its $408 million purchase in the quarter of Irvine-based Habit Restaurants Inc., which it said did not have a significant impact on results.
The 276-location burger chain recorded same-store sales down 9% in the quarter.
The period's results overall "reflect two different realities," Yum CEO David Gibbs said. "We began the year with momentum across many of our businesses, however as the quarter progressed we were heavily impacted by the unfortunate spread of COVID-19."
Yum overall reported a 3% quarterly sales decline, with comparable sales down 7%.
Shares were about flat in midday trading Wednesday for a market cap of $27 billion.