Midday Stock Roundup
Wednesday, April 29, 2020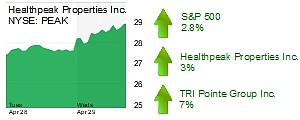 Indexes were each up about 2% to 3% in midday trading as states moving to reopen, Federal Reserve statements and news of coronavirus treatments in development overshadowed a nearly 5% decline in U.S. GDP, the biggest quarter cut since 2008.
The S&P 500 was at 2,940.27; the Dow Jones Industrial Average at 24,640.75; the Nasdaq to 8,893.04.
The yield on a 10-year Treasury bond fell 0.8% to 0.61%.
The price of gold dipped 0.5% to $1,714.
A barrel of oil leapt 28% to $15.83.
OC stocks were killing it across sectors—healthcare, tech, real estate, finance—as supervisors Tuesday outlined a four-step plan to reopen county businesses and other activity.
HEALTHCARE
Health facility REITs were performing especially well. Irvine-based Healthpeak Properties Inc. (NYSE: PEAK) rose more than 3% to a $13.8 billion market cap; Sabra Health Care REIT Inc. (Nasdaq: SBRA), also in Irvine, was 7% higher to a $2.7 billion market cap. Ensign Group Inc. (Nasdaq: ENSG) in San Juan Capistrano and CareTrust REIT Inc. (Nasdaq: CTRE) in San Clemente were each up between 8% and 9% to market caps of $2.2 billion and $1.7 billion, respectively.
REAL ESTATE
Developers, builders and suppliers joined in. Irvine-based TRI Pointe Group Inc. (NYSE: TPH) climbed 7% to a $1.6 billion market cap. Great Park Neighborhoods master planner Five Point Holdings LLC (NYSE: FPH), also based in Irvine, rose more than 4% to an $819 million market cap. Foundation Building Materials (NYSE: FBM), which supplies construction products to builders and developers from a Santa Ana headquarters, jumped 10% to a $534 million market cap.