Midday Stock Roundup
Tuesday, April 28, 2020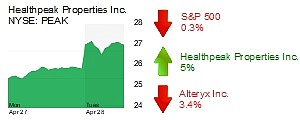 Major indexes fell in midday trading on lower oil prices, wiping out some of the gains from Monday's rally.
The S&P 500 was down 0.3% to 2,869.78; the Dow Jones Industrial Average 0.1% to 24,122.27; the Nasdaq nearly 1% to 8,646.86.
The yield on a 10-year Treasury bond fell 6.6% to 0.61%.
The price of gold ticked down 0.1% to $1,721.
A barrel of oil fell 2.4% to $12.47.
HEALTHCARE
Irvine-based REIT Healthpeak Properties Inc. (NYSE: PEAK) rose 5% to $26.59 a share for a market cap of $13.4 billion. The higher-end property owner reports results May 5.
TECHNOLOGY
Data analytics software maker Alteryx Inc. (NYSE: AYX), also in Irvine, fell 3.4% to $110.18 for a $7.2 billion market cap. Shares are up about 40% over the last three weeks.