Midday Stock Roundup
Thursday, April 23, 2020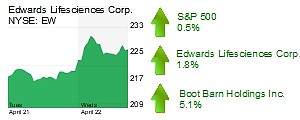 The S&P 500 was up 0.5% at midday trading to 2,812.21.
The Dow Jones Industrial Average rose 0.7% to 23,626.57.
The Nasdaq increased 0.5% to 8,539.49.
Crude oil rose 21% to $16.62 a barrel.
The price of gold increased 0.5% to $1,746 an ounce.
The yield on a 10-year bond fell 2.56% to 0.60%.
HEALTHCARE
Edwards LifeSciences Corp. (NYSE: EW) increased 1.8% to $220.20 a share with a $46 billion market cap. The company is set to report earnings today. Trading volume was less than half the daily average.
RETAIL
Boot Barn (NYSE: BOOT) is up 5.1% to $14.61 a share with a $421 million market cap. Shares of the company were trading at slightly less than half below average at midday.