Midday Stock Roundup
Wednesday, April 22, 2020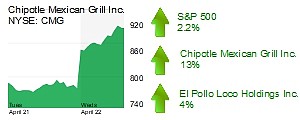 Indexes ticked more than 2% higher apiece on oil's recovery.
The S&P 500 rose 2.2% to 2,797.39; the Dow Jones Industrial Average 2% up to 23,481.85; the Nasdaq 2.5% to 8,469.60.
The yield on a 10-year Treasury bond jumped 10% to 0.63%.
The price of gold climbed 3% to $1,735.
A barrel of oil leapt 19% to $13.80 a barrel.
RESTAURANTS
Newport Beach-based Chipotle Mexican Grill Inc. (NYSE: CMG) jumped 13% to $889 and a $24.7 billion market cap. The fast casual restaurant operator reported a big jump in digital sales as part of its quarterly report, yesterday after markets closed. Eight analysts maintained generally positive ratings on Chipotle, with some price target hikes.
El Pollo Loco Holdings Inc. (Nasdaq: LOCO) in Costa Mesa rose 4% to $11 a share and a $386 million market cap. The fast food chicken chain reports results and plans to give an operational update relative to the coronavirus April 30.