Midday Stock Roundup
Tuesday, April 21, 2020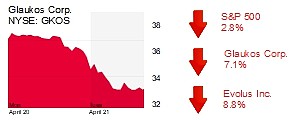 Major indexes continue to fall after concerns over Monday's unprecedented plunge in oil prices, with no clear resolution in sight.

The S&P 500 was down 2.8% to 2,744.40 during midday trading.
The Dow Jones Industrial Average fell 2.2% to 23,129.70.
The Nasdaq dropped 3% to 8,306.56.
The yield on a 10-year Treasury bond plunged 10.5% to 0.56%.
The price of gold decreased 1.3% to $1,689.
The price for a barrel of oil jumped 116.4%, rising from negative prices to reach $6.16.
HEALTHCARE
San Clemente-based ophthalmic medical device maker Glaukos Corp. (NYSE: GKOS) fell 7.1% to $31.72 per share for a market cap of $1.4 billion, following equity valuations lower across the board. In addition, doctors and hospitals have been postponing non-emergency surgery during the coronavirus pandemic to free up resources for acutely ill patients.
TECHNOLOGY
Shares in data analytics software maker Alteryx Inc. (NYSE: AYX) dropped 8.8% to $113.94 for a market cap of $7.4 billion. Earlier in the day, retail investor-oriented website Simply Wall St. called the Alteryx return on equity "uninspiring."