Midday Stock Roundup
Thursday, April 16, 2020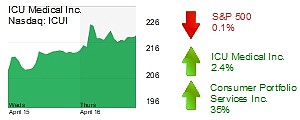 The S&P 500 was down 0.1% at midday trading to 2,781.11.
The Dow Jones Industrial Average fell 0.7% to 23,340.23.
Nasdaq rebounded 0.6% to 8,449.54.
Crude oil fell 1.3% to $19.61 a barrel.
The price of gold declined 0.5% to $1,732 an ounce.
The yield on a 10-year bond dropped 5.2% to 0.61%.
HEALTHCARE
ICU Medical Inc. (Nasdaq: ICUI) rose 2.4% to $217.44 a share with a $2.5 billion market cap. Early last month the company appointed Brian Bonnell as its new chief financial officer; investors have responded positively to the appointment. Trading volume was average. The company is a manufacturer of medical instruments and supplies and is based out of Irvine.
SERVICES
CorVel Corp. (Nasdaq: CRVL) declined 6.7% to $50.60 a share with a $916 million market cap. The Irvine-based company manages workers' comp and other insurance programs.
AUTOMOTIVE
Consumer Portfolio Services Inc. (Nasdaq: CPSS) leapt 35% to $2.10 a share with a $47 million market cap. Trading volume was thirteen times the average with over 250,000 shares changing hands. When issuing its first-quarter results yesterday, the Irvine-based specialty auto lender said the recently approved Coronavirus bill provides the company with an opportunity to carry back net operating losses from the past three years to the next five years, resulting in a net tax benefit of $8.8 million. The shares had fallen as low as $1.08 on March 19, a 75% drop from Feb. 13.