tMed Platform Allows for Private Doctor Consultations
TECHNOLOGY: SERVES PATIENTS WARY OF LEAVING HOME
Monday, April 13, 2020
Share this article: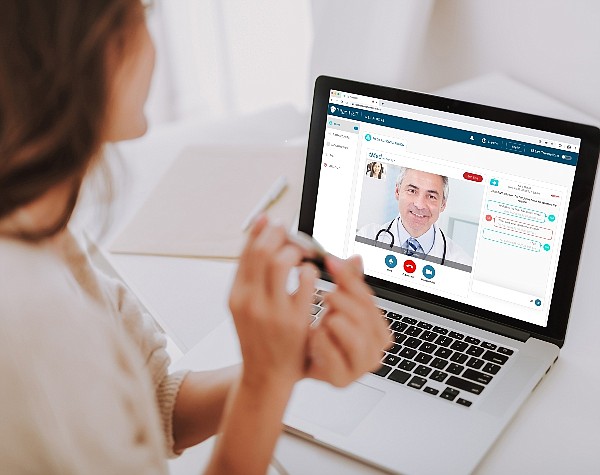 Titan HST of Newport Beach, a communications-focused technology firm founded in 2012, has stepped up its moves in the telemedicine market, as patients opt to stay home in the midst of the coronavirus pandemic rather than head to doctors' offices.
tMed 2.0 by Titan HST is a new video medicine and health platform that allows people to access their on-call doctors instantly, and securely, without venturing outside.
It allows medical providers to quickly connect directly with their patients, both for medical consultations and for general mass communication to help share accurate and up-to-date information about COVID-19.
"Medical offices are closing their doors because they don't want to have sick patients in there or because too many patients are canceling appointments," Vic Merjanian, founder and chief executive of Titan HST, told the Business Journal this month. 
"One of the doctors we've spoken to, used to see 50 patients a day. He was down to four. They had to close the offices because everyone's scared to go in." 
OB-GYNs, Pediatricians
Merjanian said the company's system is mobilizing primary care physicians, including OB-GYNs and pediatricians, to stay open and see patients especially now during the pandemic.
Doctors enroll patients and staff instantly in just one step. The medical providers then have the ability to video call, audio call and text chat with patients during consultations, including the ability to translate communications in real-time so that all populations in a community have access to medical care.
They can also send informational messages to patients and staff including video, photos and documents via text message, mobile app, email, web and social media.
Medical care providers can also poll their patients and staff regarding anything including symptoms, work attendance, etc. and mobilize resources with group conferencing over video, audio and text including real-time translation in over a dozen languages. 
Merjanian, who is also an attorney, received the Business Journal's Excellence in Entrepreneurship Award in 2018.
In addition to medical uses, the company's products are used by emergency personnel, law enforcement, security personnel, school districts and others, to share information during emergency situations.
Titan HST allows users and emergency personnel to communicate emergency information instantly—including GPS coordinates, text, audio, pictures and videos— increasing information dissemination and reducing emergency response time.
A deal struck in 2018 with unrelated security services firm Titan Global LLC of New York, to provide communications systems to Titan Global's workforce and customers, was billed at the time as being valued at $300 million or more.
Merjanian said last week that the Titan HST-Titan Global contract has resulted in "tremendous and high-profile" deal flow, assisting in Titan HST reaching profitability within approximately a year of its Series A. In fact, "the partnership has been so successful that their CEO John Venturo actually joined our company as our chief business development officer," he said.
Secure, Encrypted
Merjanian sees advantages of tMed over other video platforms for medical care.
"Zoom and those other platforms are not intended for video medicine," Merjanian said. "We have a digital waiting room. We are secure. We're encrypted."
With Zoom, for example, another patient can show up in your appointment, according to Merjanian, while the FBI is issuing a warning about Zoom, telling users that they could be victims of hacking that could come with pornographic or hateful messages.
Full Privacy
The company said it aims to keep doctors and other medical care open for business. This way they can see patients without exposing the medical providers to illness or letting illness spread in their waiting rooms. Titan HST said it helps to keep continuity of care, and therefore keep small medical businesses employing people while treating patients and reducing burden on hospitals. 
"Our medical platform allows for mass notification and polling of users," Merjanian said. "Doctors can confidentially poll all of their patients with one touch to see if they are healthy or not healthy."
He emphasized the strict privacy of the tMed platform.
"We don't share or sell any of the information with anyone," he said. The system is HIPAA compliant, meaning it conforms to federal law on patient privacy and confidentiality of medical records.
PPE, Costs
"The tMed platform costs less than the safety equipment required for just one patient interaction and there are no contracts or monthly fees," the company said April 1 in announcing the platform upgrade.
The medical provider goes online to sign up for the platform. The price is a "few dollars per visit" with the doctor paying and then generally getting insurance reimbursement. The doctor initiates the service.
"Due to the pandemic, we're deferring all payment for 100 days," according to Merjanian, whose company has been working remotely. "Right now, our goal is just to mobilize the medical community to help Americans get access to medical care."
13 Languages
"Our medical platform allows for mass notification and polling of users, so doctors can confidentially poll all of their patients with one touch to see if they're healthy or not healthy," according to Merjanian. That helps to allow for a "continuity of care."
It also provides for real-time translation across 13 different languages while allowing for the storage and sharing of documents, videos, pictures and more with patients or staff. 
The platform for all of the company's services was used 200 million times last year, according to Merjanian.