Midday Stock Roundup
Monday, April 13, 2020
Share this article: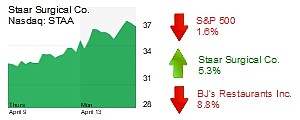 Major U.S. stock indexes fell Monday after last week's rally, with the S&P 500 down 1.6% in midday trading to 2,746.28.
The Dow Jones Industrial Average fell 2% to 23,241.51; and the Nasdaq decreased 0.7% to 8,094.61.
The yield on a 10-year Treasury bond increased 0.4% to 0.73%.
The price of oil jumped 3.3% to $23.50 a barrel.
The price of gold ticked up 0.3% to $1,757.40.
HEALTHCARE
Lake Forest-based STAAR Surgical Co. (Nasdaq: STAA) rose 5.3% to $35.50 and a $1.6 billion market cap. The company provided a business update Monday with preliminary first quarter results, sharing that net sales are expected to increase 7% to $34.9 million, and while COVID-19 will have a negative impact on the company, a maker of an implantable eye lens, it will be "less than previously estimated."
RESTAURANTS
Huntington Beach-based BJ's Restaurants Inc. (Nasdaq: BJRI) was down 8.8% to $16.51 and a $318 million market cap. It was the largest drop among local restaurant operators. The S&P 600 Restaurant Index was down nearly 5% during midday trading.