Midday Stock Roundup
Thursday, April 9, 2020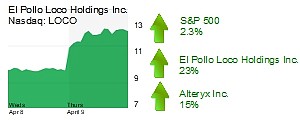 The S&P 500 rose 2.3% at midday trading to 2,813.12
The Dow Jones Industrial Average rose 2% to 23,891.83.
Nasdaq also saw a gain of 1% to 8,172.06.
Crude oil rose 1.5% to $25.50 a barrel.
Gold rose 4% to $1,751 an ounce.
The yield on a 10-year bond fell 5.5% to 0.72%
RESTAURANTS
El Pollo Loco Holdings, Inc. (Nasdaq: LOCO) jumped 23% to $11.31 a share with a $396 million market cap. The Costa Mesa-based fast food chicken chain yesterday said same store sales declined 1.5%.
TECHNOLOGY
Irvine-based Alteryx Inc. (NYSE: AYX) was up 15% to $111.70 a share for a $7 billion market cap. The data analytics software maker will release quarterly results May 6.
FINANCE
Banc of California (NYSE: BANC) rose 14% to $9.23 a share and a $461 million market cap. Trading volume is about one-third its average. The Santa Ana bank holding company has a 52-week high of $19 and a low of $6.