Midday Stock Roundup
Tuesday, April 7, 2020
Share this article: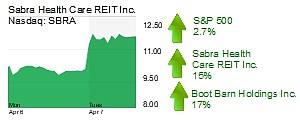 Major indexes rose for a second straight day as investors grew more optimistic about a possible decrease in new coronavirus cases.
The S&P 500 was up 2.7% to 2,735.19 during midday trading.
The Dow Jones Industrial Average rose 3.2% to 23,412.46.
The Nasdaq climbed 2.1% to 8,081.77.
The yield on a 10-year Treasury bond surged 15.2% to 0.78%.
The price of gold decreased 0.4% to $1,671.
The price for a barrel of oil rose 0.2% to $26.14.
HEALTHCARE
Medical facility REITs—holding skilled nursing, assisted living, high-end medical offices and other properties—were strong amid the general market resurgence this morning on expectations that the coronavirus pandemic in the U.S. may be peaking.
Sabra Health Care REIT Inc. (Nasdaq: SBRA) in Irvine rose 15% to $11.59 a share for a market cap of $2.4 billion. CareTrust REIT Inc. (Nasdaq: CTRE) in San Clemente increased 11% to $16.23 a share for a market cap of $1.5 billion. Irvine-based Healthpeak Properties Inc. (NYSE: PEAK), OC's largest healthcare REIT and third largest publicly traded company overall, was up 6.1% to $24.54 a share for a market cap of $12.4 billion.
RETAIL
Irvine-based western apparel chain Boot Barn Holdings Inc. (NYSE: BOOT) rose 17% to $13.70 a share for a market cap of $392.7 million on expectations of consumer buying habits eventually returning to normal.