Midday Stock Roundup
Friday, April 3, 2020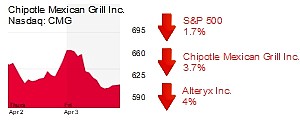 Indexes tumbled in midday trading Friday as job losses in the U.S. continued to mount, with the Labor Department reporting 701,000 jobs cut last month.
The S&P 500, Dow Jones, and Nasdaw were each down 1.7%, to 2,485.11, 21,060.12; and 7,364.80.
Crude oil rose 5.9% to $26.80, while gold was up less than 1% to $1,647.
The 10-year Treasury bond slipped 7.8% to 0.60%.
RESTAURANTS
Newport Beach-based Chipotle Mexican Grill Inc. (NYSE: CMG) was down 3.7% to $606.62 for a market cap of $16.8 billion. The chain caught criticism Thursday in New York City over its employee pay and sick leave policies rolled out in response to the COVID-19 pandemic, with some employees alleging improper enforcement. The company disputes the allegations.
OC's publicly-traded restaurants overall were off on Friday.
Huntington Beach-based BJ's Restaurants Inc. (Nasdaq: BJRI) was down 1.1% to $11.19 for a market cap of $215 million. El Pollo Loco Holdings Inc. (Nasdaq: LOCO) of Costa Mesa was down 8.6% to $7.55 for a market cap of $264.8 million. Lake Forest-based Del Taco Restaurants Inc. (Nasdaq: TACO) fell 3.5% to $3.03 for a market cap of $112 million.
TECHNOLOGY
Alteryx Inc. (NYSE: AYX) shares were down 4% to $80.18, continuing its slide from Tuesday. The Irvine data analytics firm had a recent market cap of $5.2 billion.