Midday Stock Roundup
Thursday, April 2, 2020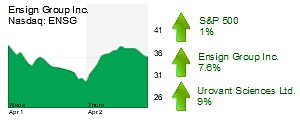 The S&P 500 was up 1% to 2,495 at midday trading.
The Dow Jones Industrial Average rose 0.7% to 21,086.
Nasdaq increased by 0.4% to 7,391.
Crude oil leapt 22% to $24.71 a barrel.
Gold saw a 2.8% rise to $1,636 an ounce.
The yield on a 10-year bond fell 1.23% to 0.6%.
HEALTHCARE
Ensign Group, Inc. )Nasdaq: ENSG) rose 7.6% to $31.43 a share with a $1.7 billion market cap. Trading volume was half the daily average. Shares of the San Juan Capistrano owner-operator of nursing homes are up 26% since March 16.
Urovant Science Ltd. (Nasdaq: UROV) in Irvine saw a 9% increase to $9.79 a share with a $298 million market cap. Trading volume was more than 86% below average. Shares have risen about 35% since March 18. The company, which is developing medications to treat urologic conditions, on March 23 said board member James Robinson will become CEO, replacing founding CEO Keith Katkin, who will remain an adviser.