Midday Stock Roundup
Wednesday, April 1, 2020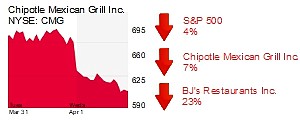 Indexes were down about 4% apiece in midday trading. Companies continued to report second quarter losses and manufacturing activity began to show effects of the coronavirus pandemic.
The S&P 500 was at about 2,475.54; the Dow Jones Industrial Average at 21,035.10; the Nasdaq to 7,405.31.
The yield on a 10-year Treasury bond dropped 9% to 0.64%.
The price of gold ticked down 0.4% to $1,591.
A barrel of oil fell just 1.5% to $20.17.
RESTAURANTS
OC restaurant stocks were harder hit than the general market; underscored by a Tennessee-based national operator firing most of its 18,000 employees and terminating benefit plans.
Chipotle Mexican Grill Inc. (NYSE: CMG) fell 7% to $611.23 and a $17 billion market cap. SunTrust Robinson Humphrey maintained a buy rating shares but cut its price target to $841, down from $1,010. The fast casual chain last week saw KeyBanc and Morgan Stanley reset price targets while maintaining ratings: to $790 and overweight, and $602 and equal weight, respectively.
Huntington Beach-based BJ's Restaurants Inc. (Nasdaq: BJRI) plunged 23% to $10.66 and a $205 million market cap. Del Taco Restaurants Inc. (Nasdaq: TACO), based in Lake Forest, was down 6.6% to $3.20 and a $119 million market cap. Costa Mesa-based El Pollo Loco Holdings Inc. (Nasdaq: LOCO) fell 5% to $8.05 and a $282 million market cap.