Midday Stock Roundup
Monday, September 30, 2019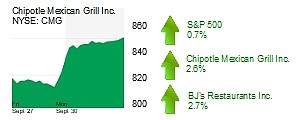 The S&P 500 rose 0.7% in midday trading to 2,981.41.
The Dow Jones Industrial Average was up 0.6% to 26,977.26.
The Nasdaq climbed 0.9% to 8,008.63.
The yield on a 10-year Treasury bond ticked up 0.4% to 1.68%.
The price of gold was 2.1% lower at $1,475 an ounce.
The price of oil was 2.31% down at $54.62 a barrel.
RESTAURANTS
Chipotle Mexican Grill Inc. (NYSE: CMG) in Newport Beach rose 2.6% to $840 and a $23.3 billion market cap. Telsey Advisory Group this morning reiterated a "Market Perform" rating on the fast casual's shares and raised its target price. An analyst sees the chain's momentum—shares are up 85% year-to-date—continuing as it introduces innovative menu items. Chipotle this month added carne asada as a protein option to its menu.
Huntington Beach-based BJ's Restaurants Inc. (Nasdaq: BJRI) was 2.7% higher to $39 and a $797 million market cap. The casual dining chain's shares are up about 10% over the last month. It opened a store in Indiana in August and now has 207 locations in 28 states.