Midday Stock Roundup
Wednesday, September 18, 2019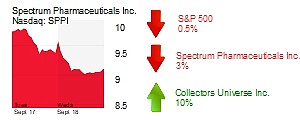 Stock indexes had declined in early trading prior to the U.S. Federal Reserve cutting its benchmark interest rate by a quarter point.
The S&P 500 declined 0.5% at midday to 2,994.11; the Dow Jones Industrial Average 0.3% to 27,037.11; he Nasdaq 0.7% to 8,130.10.
The yield on a 10-year Treasury bond dove 3.4% to 1.75%.
The price of gold ticked up 0.2% to $1,516 an ounce.
The price of oil was 2% lower at $58.16 a barrel.
HEALTHCARE
Spectrum Pharmaceuticals Inc. (Nasdaq: SPPI), which has a research facility in Irvine, declined 4% to $9.08 and a $1 billion market cap. Shares in the maker of drugs to treat cancer and blood diseases have risen 20% in the last two weeks since it said it planned to present new Phase 2 clinical data at a conference this month.
SERVICES
Santa Ana-based Collectors Universe Inc. (Nasdaq: CLCT) climbed 10% to $28.33 and a $260 million market cap. The coin and collectibles authenticator's shares are up 30% in three weeks since reporting record annual revenue.