Midday Stock Roundup
Monday, September 16, 2019
Share this article: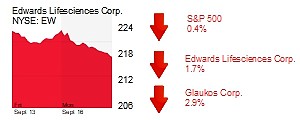 The S&P 500 was down 0.4% in midday trading at 2,996.31.
The Dow Jones Industrial Average decreased 0.5% to 27,083.58.
The Nasdaq dipped 0.4% to 8,145.94.
The price for a barrel of oil skyrocketed 14% to $62.67.
Gold was up 0.8% to $1,511.
The yield on a 10-year bond dropped 3.5% to 1.84%.
HEALTHCARE
San Clemente-based Glaukos Corp. (NYSE: GKOS) decreased 2.9% to $71.86 and a $2.7 billion market cap. Shares for the medical device maker are still up nearly 34% since the start of the year.
Edwards Lifesciences Corp. (NYSE: EW) was down 1.7% to $215.73 and a $44.9 billion market cap. Shares for Orange County's most valuable public company are currently trading at about a quarter of their average volume. Shares are still up about 48% this year.
REAL ESTATE
Aliso Viejo-based New Home Company (NYSE: NWHM) rose 4.9% to $4.25 and an $85.4 million market cap. It was the largest increase among Orange County public homebuilders, and a group of five competitors.