Midday Stock Round Up
Thursday, September 12, 2019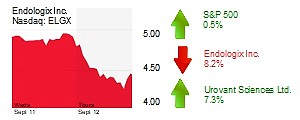 The S&P 500 and Nasdaq both rose over half a percent at midday trading to 3,017.9 and 8,217.36 respectively.
The Dow Jones Industrial Average was up 0.5% to 27,266.55.
Crude oil fell 1.2% to $44.11 a barrel.
Gold rose 0.3% to $1.507.
The yield on a 10-Year Bond rose 3.5199% to 1.79%
HEALTHCARE
Endologix Inc. (Nasdaq: ELGX) fell 8.2% to $4.36 a share to a $77 million market cap; the 52-week low is $4.20 a share. The Irvine-based medical device maker is 80% below its 52-week high of $22, reached last September.
Urovant Sciences Ltd (Nasdaq: UROV) was up 7.3% to $9.80 a share and a $297 million market cap. Urovant's parent Roivant Sciences last week said it's transferring its 75% stake to Sumitomo Dainippon Pharma by the end of October.