Midday Stock Roundup
Tuesday, September 10, 2019
Share this article: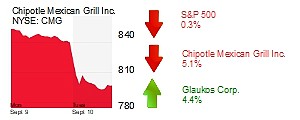 The S&P 500 fell 0.3% to 2,970.90 during midday trading.
The Dow Jones Industrial Average decreased less than 0.1% to 26,829.35.
The Nasdaq dropped 0.3% to 8,063.02.
The yield on a 10-year Treasury bond jumped 3.9% to 1.685%.
The price of gold decreased 0.7% to $1,501.20.
The price for a barrel of oil fell 0.3% to $57.69.
RESTAURANTS
Chipotle Mexican Grill Inc. (NYSE: CMG) of Newport Beach dropped 5.1% to $796.60 per share for a market cap of $22.5 billion, after New York City said it filed a lawsuit against the fast-casual chain for alleged labor law violations.
HEALTHCARE
San Clemente's Glaukos Corp. (NYSE: GKOS) rose 4.4% to $67.92 per share for a market cap of $2.5 billion. The ophthalmic device maker's stock price rose after the Tech News Observer online site reported that BB&T Securities LLC doubled its holdings in shares of the company in the second quarter.