Midday Stock Round Up
Thursday, September 5, 2019
Share this article: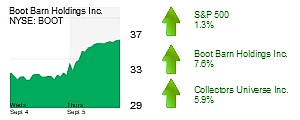 The S&P 500 was up 1.3% to 2,976.26 in midday trading. The Dow Jones Industrial average and Nasdaq were each up 1.6% to 26,770.57 and 8,103.40 respectively.
Crude oil rose 0.9% to $56.75 a barrel.
Gold fell 2.2% to $1,525.60 an ounce.
The yield on a 10-year bond jumped 7.1% to 1.56%.
RETAIL
Boot Barn Holdings Inc. (NYSE: BOOT) rose 7.6% to $32.91 a share and a $937 million market cap. It was the highest increase today among seven rivals, each of who also rose today. Shares of the Irvine-based retailer have almost doubled year to date.
SERVICES
Collectors Universe Inc. (Nasdaq: CLCT) was up 5.9% at midday to $27.24 and a $250 million market cap. Shares have climbed about 18% since Aug. 28 when it reported fourth quarter revenue rose 16% to $19.8 million, a quarterly record. Shares of the Newport Beach-based provider of authentication and grading services to dealers and collectors of collectibles, have more than doubled this year.
TECHNOLOGY
Veritone Inc. (Nasdaq: VERI) saw a 6.19% increase at midday trading to $4.46 a share and a $99 million market cap. Shares of the Costa Mesa-based company, which is trying to break into artificial intelligence in media analysis, are still down 54% since May.