Midday Stock Roundup
Wednesday, October 23, 2019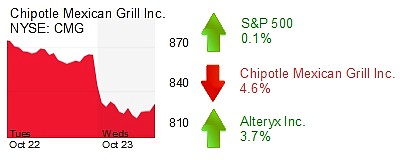 Indexes each edged up about 0.1% in midday trading. The S&P ticked higher to 2,998.92; the Dow Jones Industrial Average to 26,800.91; and the Nasdaq to 8,111.54.
The yield on a 10-year Treasury bond dropped 0.9% to 1.75%.
The price of gold rose 0.6% to $1,496 an ounce.
The price for a barrel of oil jumped 1.8% to $55.47.
RESTAURANTS
Chipotle Mexican Grill Inc. (NYSE: CMG) in Newport Beach fell 4.6% to $793 and a $22 billion market cap. The fast casual chain said it would open new stores this year at the lower end of its projected range so it can add drive thru lanes to about half of them. Ten analysts since Friday have maintained their neutral-to-buy ratings on Chipotle shares, with price targets from $725 to $930.
TECHNOLOGY
Irvine-based Alteryx Inc. was up 3.7% to $90.65 and a $6 billion market cap in a recovery after two days of declines in its share price. The software maker is scheduled to report earnings Thursday, Oct. 31.