Midday Stock Roundup
Wednesday, October 16, 2019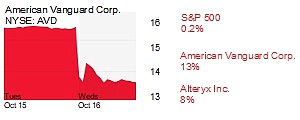 The S&P 500 dipped 0.2% in midday trading to 2,989.
The Dow Jones Industrial Average was flat at 27,013.69.
The Nasdaq ticked down 0.4% to 8,118.68.
The yield on a 10-year Treasury bond dropped 1.5% to 1.75%.
The price of gold popped 0.7% higher to $1,493.
The price for a barrel of oil rose 1.2% to $53.42.
MANUFACTURING
Newport Beach-based American Vanguard Corp. (NYSE: AVD) fell 13% to $13.33 and a $403 million market cap. The chemicals maker reported a 10% increase in quarterly year-over-year net sales to $123 million but missed the consensus estimate of $140 million.
TECHNOLOGY
Alteryx Inc. (NYSE: AYX) in Irvine fell 8% to $103.44 and a $6.7 billion market cap. The data analytics software maker is scheduled to report results on Oct. 31; its shares are up about 50% for the year.