Philanthropy Recognized
Wednesday, October 16, 2019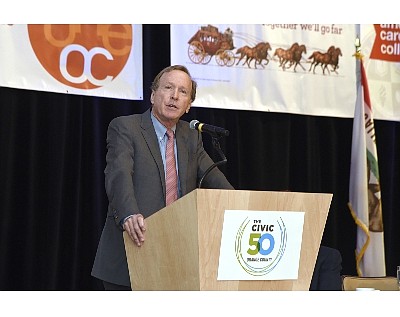 The Business Journal and volunteer groups OneOC and Points of Light hosted the third annual Civic 50 awards at Hotel Irvine Wednesday.
Some 420 attendees turned out to honor companies for the 2019 event, which recognizes 50 OC-based companies and their philanthropy in the community; 46 of the 50 companies sent representatives as well.
Points of Light Board Chair Neil Bush, third son of late, former President George H.W. Bush, delivered the keynote address.
Awards—three based on company size locally, as well as a newer and an elder firm—went to:

• Your Wealth Effect, a wealth manager, in the Small Local Workforce category
• Accounting firm Windes for the medium local firm
• PricewaterhouseCoopers, a professional services firm, representing large local contingents
• Tenant-improvement firm Casco Contractors, for emerging firms
• Financial giant Capital Group Cos., as the legacy company
All are in Irvine.
The Oct. 21 print edition of the Business Journal will profile several Civic 50 firms.