Midday Stock Roundup
Tuesday, October 15, 2019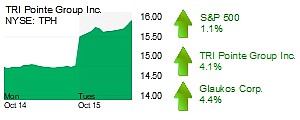 The markets rose on positive third-quarter results from banks and health companies and an indication that a Brexit deal may be soon announced.
The S&P 500 rose 1.1% to 2,997.42; the Dow Jones Industrial Average increased 0.9% to 27,039.17; the Nasdaq gained 1.2% to 8,143.04
The yield on a 10-year Treasury bond was up 1.5% to 1.8%.
The price of gold decreased 0.8% to $1,485.
The price for a barrel of oil fell 0.2% to $53.47
REAL ESTATE
Irvine-based developer and homebuilder TRI Pointe Group Inc. (NYSE: TPH) increased 4.1% to $15.08 a share for a market cap of $2.1 billion. RBC Capital Markets analyst Mike Dahl upgraded the company to outperform from sector perform with a price target of $17.00 earlier in the day, StreetInsider.com reported.
HEALTHCARE
San Clemente-based ophthalmic medical device maker Glaukos Corp. (NYSE: GKOS) rose 4.4% to $64.20 per share for a market cap of $2.4 billion. The shares have increased about 9% since Thursday, when the company announced that it had achieved a pipeline milestone in its FDA exemption trial for iStent infinite.