Midday Stock Roundup
By Katie Murar
Monday, October 14, 2019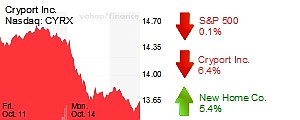 The S&P 500 was down 0.1% during midday trading to 2,966.76.
The Dow Jones Industrial Average and the Nasdaq were both flat at 26,818.19 and 8,052.27, respectively.
The yield on a 10-year Treasury bond dipped 1.1% to 1.73%.
The price of gold ticked 0.5% higher to $1,497.
The price of oil decreased 2.3% to $53.47 a barrel.
HEALTHCARE
Cryoport, Inc. (Nasdaq: CYRX) was down 6.4% to $13.57 and a $481.6 million market cap. Shares for the Irvine-based health sciences shipping and logistics provider are currently trading at a third of their typical volume. Shares are still up 44% since the start of the year.
REAL ESTATE
Aliso Viejo-based New Home Company (NYSE: NWHM) rose 5.4% to $4.31 and an $87 million market cap. It was the largest increase out of all Orange County homebuilders, and among its biggest competitors. Shares are still down 28% since the start of the year.