Midday Stock Roundup
Tuesday, October 8, 2019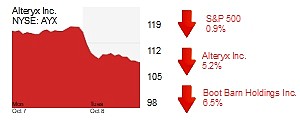 The S&P 500 fell 0.9% to 2,913.41 during midday trading.
The Dow Jones Industrial Average decreased 0.7% to 26,300.67.
The Nasdaq dropped 1% to 7,879.09.
The yield on a 10-year Treasury bond was down 1.4% to 1.53%.
The price of gold increased 0.1% to $1,505 an ounce.
The price for a barrel of oil fell 0.8% to $52.32.
TECHNOLOGY
Irvine-based data analytics software maker Alteryx Inc. (NYSE: AYX) dropped 5.2% to $109.77 a share for a market cap of $6.8 billion, following major stock indexes downward as President Trump ratcheted up trade restrictions on China. Alteryx shares have lost 16% of their value in the last month.
RETAIL
Boot Barn Holdings Inc. (NYSE: BOOT) in Irvine declined 6.5% to $32.24 a share for a market cap of $906 million. The U.S.-China trade war is seen boosting clothing and accessories prices by 5% to 10%, with a corresponding hit to retailers' profits, trade publications said.