Midday Stock Roundup
By Katie Murar
Monday, October 7, 2019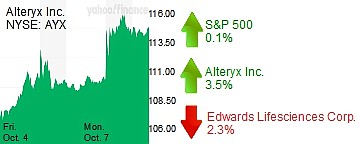 The S&P 500 was down 0.1% in midday trading to 2,948.71.
The Dow Jones Industrial Average and the Nasdaq also dipped 0.1% to 26,542.29 and 7,976.66, respectively.
The yield on a 10-year Treasury bond rose 2% to 1.5%.
The price of gold declined 0.5% to $1,505.
The price of oil climbed 1.5% to $53.58 a barrel.
HEALTHCARE
Shares in Edwards Lifesciences Corp. (NYSE: EW) were down 2.3% to $224.21 and a $46.6 billion market cap after rising as much as 3% percent on Friday. Shares, currently trading at half their typical volume, are still near their 52-week high of $228.19, which was reached last week.

Axonics Modulation Technologies Inc. (Nasdaq: AXNX) in Irvine fell 6.4% to $23.91 and a $653 million market cap. The most recent news for the medical device maker shows two positive developments in Europe: a new recommendation in France for the registration of one of Axonics' systems, and a new contract in Norway. Shares are up 69% since the start of the year.
TECHNOLOGY
Irvine-based Alteryx, Inc. (NYSE: AYX) rose 3.5% to $114.56 and a $7 billion market cap following a bullish analyst recommendation. In a Monday report, Wedbush analysts upgraded the stock to outperform from neutral, and increased the company's price target to $135 from $123. The report said Wedbush is "less concerned about near term competition from Tableau Prep and the relatively nascent state of AYX's data science efforts." Shares are nearly double from the start of the year.