Midday Stock Roundup
By Katie Murar
Wednesday, October 2, 2019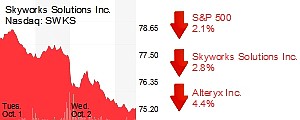 Major U.S. indexes tumbled more than 2% during midday trading in the second day of sharp declines following a grim manufacturing report.
The S&P 500 fell 2.1% to 2,877.67.
The Dow Jones Industrial Average plunged 2.2% to 25,994.25
The Nasdaq dropped 2% to 7,748.26.
The yield on the 10-year Treasury bond was down 3.4% to 1.59%.
The price of gold rose 1.2% to $1,507.
The price of oil decreased 2.3% to $52.38 a barrel.
TECHNOLOGY
Skyworks Solutions Inc. (Nasdaq: SWKS) shares dropped Wednesday in the wake of declines from larger cap tech companies, like Apple, Amazon and Alphabet. The Irvine-based chipmaker was down 2.8% to $75.25 and a $12.9 billion market cap.
Similarly, Alteryx (NYSE: AYX) shares suffered Wednesday, falling 4.4% to $102.24 and a $6.6 billion market cap. Shares, currently trading at half their typical volume, are down nearly 8% over the past week.